SGS Sports Update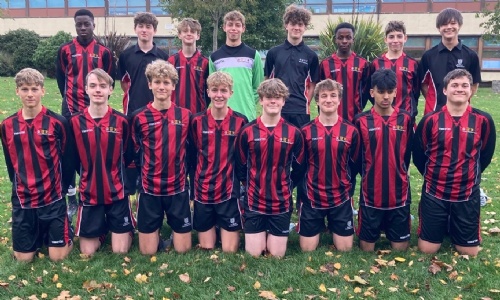 Sports Update
YEAR 10 BOYS FOOTBALL
The Year 10 Boys Football Team hosted St Anthony's. After most of the game being 0-1 to the hardworking opposition. Ike Iwelu who showed excellent attitude throughout the game dribbling up and down pitch earned Player of the Match for this fixture. After Andrew's Ward's disallowed goal due to being offside, the boys were elated once Archie Mills equalised during stoppage time to make the final score 1-1.
YEAR 8 BOYS FOOTBALL
Year 8 boys team travelled to Urmston Grammar for a Trafford League fixture.
They were put under pressure straight away with some excellent saves by Archie in goal, keeping the scores level. A breakthrough for Urmston came when an unmarked header in the Stretford box meant SGS were behind 1-0. 3 quick goals from Urmston made it an uphill 4-0 score line at half time. In the second half, SGS tightened things up with Fikemi moving in to midfield and creating a chance for Ryan Buckley. Anthony Lee scored a consolation goal which lifted the SGS heads as they showed a more determined spirit.
Final score 4-1 to Urmston Grammar
YEAR 10 NETBALL
Each netball fixture is grouped with a small number of other schools to ensure that each team have competitive games and can do so on one date.
In this structure, we were able to play Flixton Girls, St Antony's, Urmston Grammar and North Cestrian. The team started incredibly well with a convincing win over St Anthony's, followed by a draw with North Cestrian. Moving onto Urmston Grammar, the team played their best netball of the day but it wasn't their game. A positive of this loss was that it showed the fight the girls had and the score line reflected a strong competition. Our final game saw us play Flixton Girls which was a close game, drawing for the majority of the time. A last-minute goal from Flixton saw them beat us 3-2. Bushra Touami was a fantastic captain for this event, leading the team by example. Pearl Prescod and Jessica Cheetham were last minute additions to the team due to a member being absent and both played fantastically.
YEAR 9B NETBALL
It was great to be able to enter a second team into the Year 9 league and what a night they had. Captained by Georgia Cowgill (on her birthday), the team started fantastically with a 4-0 win over Blessed Thomas Holford. They then moved onto Sale High, who they drew 2-2 with. This meant the team won their group and moved onto the semi-finals, where they met Altrincham College. A longer and tougher game saw the team come out with a 4-0 victory. Urmston Grammar were the team to beat in the final and after a 4-4 draw at the end of the game, a further 3 minutes were played to see if the two teams could be separated. This was a tense time for both teams and Urmston Grammar just pipped us to the win with a final score of 6-5. Stand out performances from Daniella Adebowale, Georgia Cowgill and Beatrix Fielding saw the team have a fabulous night.