Programmes of Study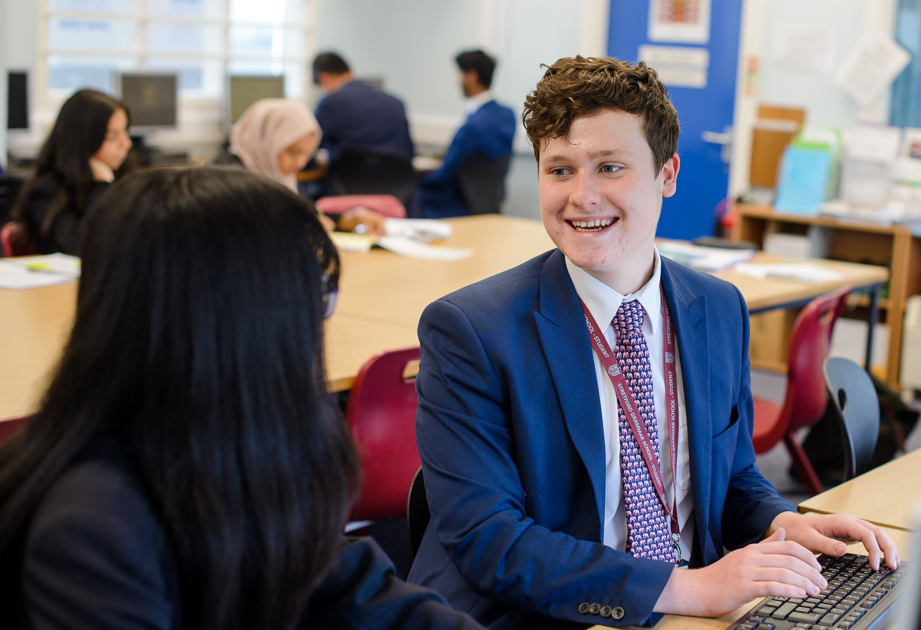 Making the Right Choice
Making the Right Choice
Support starts in Year 11 when our students begin considering their potential Post 16 options choices.
In the autumn term, Year 11 students will hear from individual subject staff on the opportunities offered through studying their subject at A Level, this is followed by a more in depth look at our options choices in January during our Open Evening event, here external students can also learn more about the opportunities we offer.
All students in Year 11 will take part in the "It's Your Choice" national programme supporting them in deciding a route post 16, usually to continue with further study. Students all undertake question and answer sessions with employers to discuss routes into preferred careers post 16 and post 18 including what to study at Level 3 and beyond. These meet the employer and provider sessions are included as part of the drop down days in year 11, and support PSHCE lessons where students learn about all possible pathways post 16, in addition to the process of application and interview.
All students in Year 11 will receive a Connexions appointment as part of our independent advice and guidance offer. These are timetabled in the Autumn Term, however, students may also request additional support.
At Stretford Grammar School we provide subject options that support our students to access competitive courses, and all subjects are offered that will allow them access to prestigious institutions. It is important that students select A-Level subjects that will allow them to gain a place on their chosen course, at their preferred University; the following website is a useful starting point when deciding the A Levels that best suit them, even if they are unsure of what they would like to do Post 18:
https://www.informedchoices.ac.uk/
Oxbridge
Academic achievement at all levels must be outstanding, and beyond this students will be expected to be widely read around their chosen subject. A-Level choices are typically traditional, academic subjects relating to students' intended degree courses.
Students will receive support in making a competitive application; this includes specific tutorial sessions on writing a personal statement for Oxbridge courses. Support here comes from the Oxford University Corpus Christi Outreach team who work with schools to support students in making their applications and preparing for interviews. Students have a personal tutor who will work with them to check personal statement drafts and support improvements to applications. There are also mock interviews to afford our applicants the experience of responding to questions under pressure.
There is a focus on super curricular activities at both Oxford and Cambridge, something we consider in our tutorial sessions, and is encouraged in subject specific independent reading that is promoted as part of our academic offer.
For us, this includes students undertaking a MOOC (Massive Open Online Course) in an area of interest; this is part of our tutorial programme. MOOCs are open access tutorial courses designed to give a flavour of undergraduate content. To complete a course requires self-motivation and organisation, and enriches all students' personal statements, regardless of their future aspirations. The below website is a good starting point for learning about these:
Further details of suggested super curricular activities for both Oxford and Cambridge can be found at the below links:
Stretford Grammar School is a member of the HE+ programme. This programme helps support students who meet certain widening access criteria to make strong applications. Details of this initiative can be found here:
https://www.undergraduate.study.cam.ac.uk/find-out-more/widening-participation/he-plus
Russell Group Universities
These are considered to be world-class institutions and comprise 24 UK Universities with a reputation for High Quality research. As with Oxbridge, GCSE grade expectations are generally high and A-Level choices are typically traditional academic subjects that are related to students' areas of interest. Further information about Russell Group Universities can be found at the below link:
https://russellgroup.ac.uk/about/our-universities/
Students will learn more about Russell group universities in tutorial sessions, crucially, as with Oxbridge applicants, a personal tutor will support students in writing a personal statement that allows them to compete for places on these courses.
Medicine, Dentistry and Healthcare Related Fields
For the vast majority of courses Chemistry is required; Biology, and/or Mathematics/Physics are routinely studied alongside Chemistry, but universities are often flexible about the third subject, and studying a different subject can often show academic versatility.
At Stretford Grammar School there is calendared time to undertake work experience. This will take place at the end of Year 12 and is especially important, as this work experience is essential for entry into these fields. Students will be guided through the UCAS process, and supported with mock interviews which play an important role in the selection process for most courses. Students have benefited from our connections with professionals working in the field who support us to deliver tutorial sessions to our students on various aspects of the process.
When choosing an A Level subject students should:
Have an interest in and enjoy studying it.
Have a good chance of obtaining a high grade in it i.e. have been good at it previously or, if students have not studied it before, have high GCSE grades in subjects which require similar skills.
Have researched the subject and know what is involved in studying it to A Level – this may sometimes be quite different from what is covered at GCSE and it may be much more difficult. If students have not studied the subject before, what is it actually about and will it suit students' strengths?
Consider whether it will help students to meet higher education or future career aspirations. Students who know which degree course they would like to study at university can use the table below to see the likely requirements.
Please note that this is a guide only and students should refer to www.ucas.com or individual university websites to check detailed entry requirements for specific courses.
Some degree courses may not require any specific subject background. If students are unsure about their future career options, subjects that tend to give the most options include Mathematics and Further Mathematics, the Pure Sciences, Geography, History, English Literature and Modern Foreign Languages. These subjects are particularly favoured by the Russell Group Universities.
The information above has been taken from Informed Choices: A Russell Group guide to making decisions about post-16 education.
It is recommended that students refer to this site before choosing their A Level options.
Please do not hesitate to contact school if students require further advice: sixthform@stretfordgrammar.com
Students receive a programme of Careers Information, Advice and Guidance during the Spring and Summer terms of Year 12, including appointments with a Connexions advisor. Guidance is given throughout the UCAS application cycle and each student is allocated an individual mentor to help them choose appropriate undergraduate courses and write their application.