GCSE Fieldwork - Salford Quays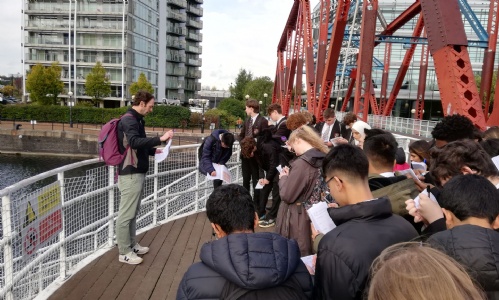 Year 11 Geographers get to grips with Salford Quays regeneration.....
On catching the tram to Salford Quays this week, we expected a typical Geography field trip of blowing gales and torrential rain. Amazingly, this was not the case, and Year 11 Geographers were able to complete their GCSE fieldwork on Salford Quays regeneration, in the sunshine.

The day was split in two, with Year 11 having a guided tour of Salford Quays in the morning, where they were able to note the different changes to the area; from the cleaning of the polluted docks to become a water sports centre, to the millions of pounds spent on the Imperial War Museum North. In the afternoon, Year 11 then carried out key Geographical fieldwork skills, such as land use surveys and environmental surveys of the Quays.

Year 11 were fantastic on the day, completing their data collection in a professional and dedicated way; no doubt this will have a positive impact on their exams. Well done Year 11!