SGS Sports Update
It may be sub-zero but the teams are warming up....
YEAR 8/9 SWIMMING
4 Boys represented the school in the annual Trafford Schools Swimming Gala at St Ambrose college. The team was made up of Fred Glass (Backstroke), Jake McManus (Butterfly), Adrian White (Breastroke) and Yiannis Poulikakos (Freestyle). Overall the boys came 6th with Jake McManus 3rd in 50m Butterfly and the team 4th in the Individual Medley relay.
Year 9A Netball
The second time of meeting for these teams and the girls did not disappoint. The team started strong with a 3-0 win against BTH but came up against a strong AOM side, losing 6-1. After a break, the team come back fighting and beat Urmston Grammar 3-1. All players really pushed themselves and played some fantastic netball but stand out performances came from Kayne Muhumuza, captain Lana Zabadne and Lorena Prokop-Sanchez. A special mention goes to Maddy Vendy, who played excellently as GK in the last fixture and was able to transfer her skills to GS for these games.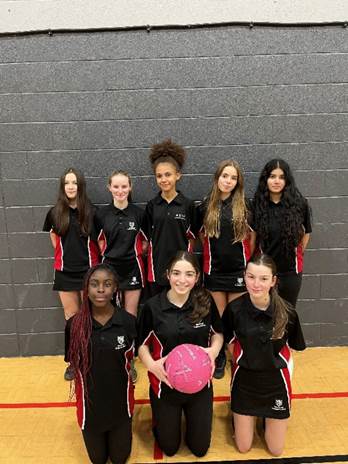 Year 9B Netball
In the second fixture for this team, the first game saw us face one of the teams from Sale High. This was a close game but finished with a last-minute goal from Sale, ending in a 2-1 defeat for our team. We followed up with a game against a strong Urmston side which saw us fight hard but lose 6-0. Moving onto the second Sale High team, we learnt from our mistakes in the first game and won 2-1, with some great work from the defence. The final game of the day was against ACA which was a closely contested game and with a 1-1 finishing score, it showed how hard the team played. Stand out performances came from Laura Goodyer, who was a last-minute addition to the team and captain Merryn Taylor, who worked hard in defence.
As this was the second fixture for these teams, the scores and positions were combined and overall, the Year 9B team came 2nd.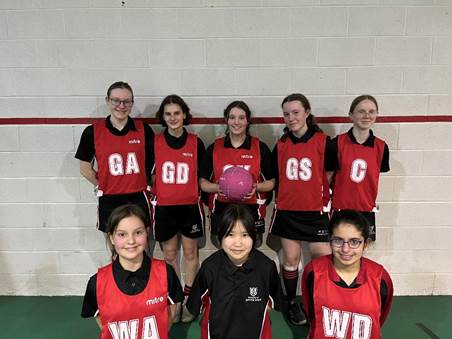 YEAR 7 GIRLS FOOTBALL
The Year 7 girls football teams travelled to Broadoak School to play in their first tournament. They played tough opposition from Ashton on Mersey, Urmston Grammar and the hosts Broadoak. The overall finishing positions for both the A and B teams was 3rd with each team recording a win, draw and a loss helped by goals from Emma Horsley (6), Hannah Cook (3), Tomsin Tomoloyu, Polly Beaumont and Niamh Robinson.
Overall, a fantastic set of games with great enthusiasm, effort and skill from all involved.
YEAR 10/11 BASKETBALL
Year 10/11 lost narrowly to Ashton on Mersey in a hard fought encounter. AOM ran out winners 23-19 with Stretford Grammar coming close to winning after a spirited second half performance. Point scoring was shared between the team with most coming from Michael McManaman, Kubush Bhalla and Les Obodai. Devine Udensi was again excellent rebounding and player of the match was Oscar Lucas.
TRAFFORD SCHOOLS CROSS-COUNTRY
Stretford Grammar sent 6 teams of Boys and Girls to the annual Trafford Schools Cross-Country event held at Crossford Bridge in Sale. Year 7 Girls team finished a very creditable 3rd in the team event. Also coming in 3rd in the team event were Year 8/9 girls whist the 8/9 Boys team went one better finishing 2nd overall. In the 8/9 Boys event Stretford Grammar managed 3 top 10 finishes with Adrian White 3rd (1st Year 8), Evan Lewis 4th and Benji Cavanagh-Aguilera 7th.