HMD 2023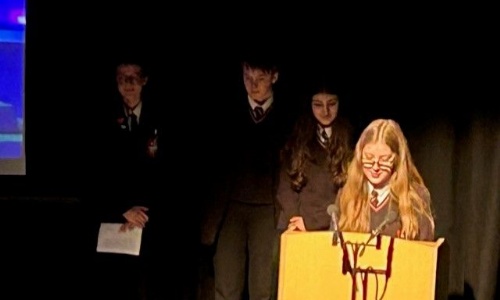 The theme of the 2023 Holocaust Memorial Day is about ordinary people making a difference.
This theme has been chosen to remind people that they are not ordinary but extraordinary and that they have the potential to change lives for the better, rather than being the people who stood by during genocides and did not try to educate people about what was going on. Students from Stretford Grammar School spoken about how they, as ordinary people, are giving back to local communities as part of the volunteering work. Our students spoke about their work from religious organisations to supporting people with English as a second language and how they give of their time to make a difference to others. Joining students from Lostock Community College and Wellington School in presenting their own work, students spoke eloquently and were thanked by the Leader of Trafford Council for giving something back to the people of the Borough.
The students were particularly moved by stories from survivors of the Death Marches and by the remembrance of those working in the ghettoes to secure the freedom of young children during the Holocaust. The remembrance culminated in the lighting of three candles, the daughter of Ann Angel, a Holocaust survivor lighting the candle for the Jews, the Chief Executive of Trafford Council lighting a candle for other communities in the Holocaust and Elinor Chohan lighting a candle to remember victims of genocides after the Holocaust.