ISOC News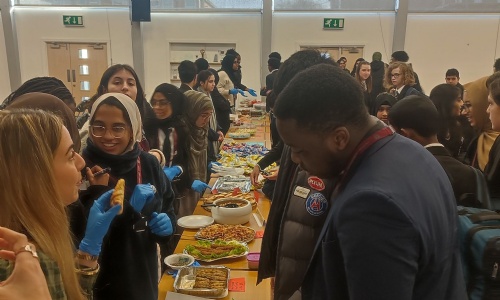 On Monday 30th January, Stretford Grammar School ISOC (Islamic Society) hosted their first fundraiser.
Based around the theme of food, students and staff brought in different dishes from around the world which were sold during break and lunchtime. We had a wide range of delicious savoury and sweet foods. Among the savoury items were samosas, biryani, dolma, spring rolls, kebabs, shawarma and channa chaat. The sweet items included basbousa, ghreyba, tiramisu, baklawa and jalebi.

It was wonderful to see students from all year groups getting involved with bringing in and selling the items. The event wouldn't have been successful without their enthusiasm and involvement. In total, we raised an incredible total of £725.29!

The money raised will be split and donated to the Islamic Relief Syrian Winter Appeal and the Disasters Emergency Committee Ukrainian Humanitarian Appeal.

Stretford Grammar School ISOC are looking forward to hosting another successful fundraiser next term. We'll see you all there!