Trafford Emerging Rugby Schools Champions!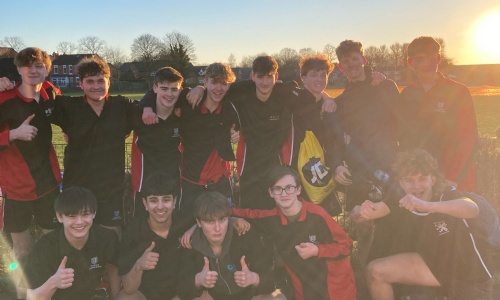 Trafford Emerging Rugby Schools Champions!
Year 10 boys rugby players took to the field at Trafford Metrovicks RUFCC on a bright and crisp Tuesday afternoon. Firstly, they played Blessed Thomas Holford College, beating them 10-0 with Sam Johnson scoring twice. Straight afterwards, they faced Wellington School where skipper Archie Mills and Sam Johnson found gaps amongst the opposition to score securing another 10-0 victory. By game three Wellington had warmed up and beat BTH by three tries. Finally, the mini-tournament finished with a first and second place play-off match, and Wellington had increased their skill level and confidence. Our boys battled in a challenging final fixture to touch down in the last play of the game, with our try coming from Alisdair Broadbent. The game finished 5-0 to Stretford. An excellent performance from a well-drilled, tactical and aggressive set of Stretfordians. Back of the Match went to Alisdair Broadbent for excellent carries and support play. Forward of the Match went to the aggressive Oscar Starling who also drove the defence into weakness. Champions!