Semi-Final on the horizon for Y8 and 6-a-side success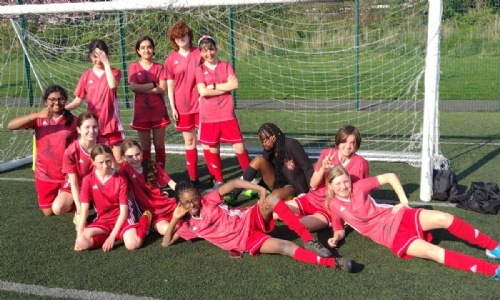 The Girls travelled to Stretford High for a 6-a-side friendly tournament.
A combination of 7,8 and 9's formed 2 teams and played in 2 well fought games. The games were played in three thirds of 12 minutes each to allow for girls who were fasting.
In the Year 7/8 team, Tomosin Tomoloju played in a key attacking role and provided a positive outlet for SGS. Diana, Bea and Niamh shared the goalkeeping duties and when they were outfield contributed solid performances. Hannah and Emma were the constant attacking threats and scored the goals in an 8-2 victory.
On the Year 8/9 pitch Ruby Myin provided the early goals against good opposition and created chances for teammates. Princess Cole made a number of fine saves in the first period of the match which saw them leading 2-0. Taia Myin made a series of further excellent saves in the last 2 thirds of the game and Princess scored a hat trick in her new attacking position.
Luna was a constant threat and added to the score sheet and Abi and Soha were excellent in their defending duties. Final score was 8-4 to SGS.
Another enjoyable trip to Stretford High and an idea to create a "Stretford Cup" across a range of sports between the two schools has been formed, providing a good community sporting link for the students in the local community.
In other news......Year 8 Boys progress to the Semi-finals with a comprehensive victory
After a delay in the fixtures due to the bad weather, the Year 8 football team were raring to get their season back on track. An away game versus Sale High provided the challenge, with the chance to progress to the Trafford Schools Cup Semi Final.
A strong start from SGS saw Jack Doroszkiewicz break in from the left-hand side and provide a constant threat throughout the game. He created the first opportunity for the opening goal with a tap in from close range for Bisher Idris.
A second goal quickly came via Farzad Ahmadi after industrious work from Phoevos Cassidy in the middle of the park. Archie Haikney was forced into a number of good saves and Stan Hodgett made a vital goal line clearance to keep the score at 2-0 by half-time.
The second half saw a relentless pace from SGS with Ben Chadwick and Ben Hosford providing searching passes from the back four. Further goals followed to put the game out of reach with Ollie Banks and Jack Doroszkiewicz adding further goals to complete a comprehensive 9-1 victory and a place in the Semi-Final.