A testing start, but improving all the time....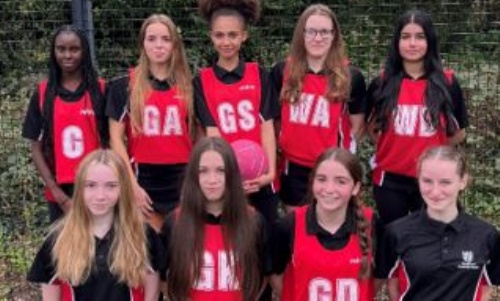 Year 10 Netball Tournament – 10th October
For the first Netball fixture of the season, Year 10 rose to the challenge. In a testing group, there was a strong start against Wellington, losing by only 3 goals. With the confidence gained from this game, the team moved onto Broadoak and beat them convincingly, with our defense made up of Lana Zabadne, Maddy Vendy and Mai Wood stopping any chance of the opposition scoring. Sale Grammar then proved tough competition, but we held our own and played some our best netball. Shooters Lorena Prokop-Sanchez and Ruby Bryan worked hard in attack and brought the score closer in the second half. The fourth game saw us face Ashton on Mersey and this is where we shone. The team as a whole really worked hard and after a close game, came out with the win. The final and toughest game of the day saw us face Loreto. Heads did not go down at any point and the team pushed themselves to play some of their best netball. Key performances came from Lana Zabadne, Lorena Prokop-Sanchez and Vivi Wilson played amazingly in a range of positions. Special mention to Bea Fielding who was unable to play but came along, coached and led the team from the sidelines.