Macmillan Coffee Morning.....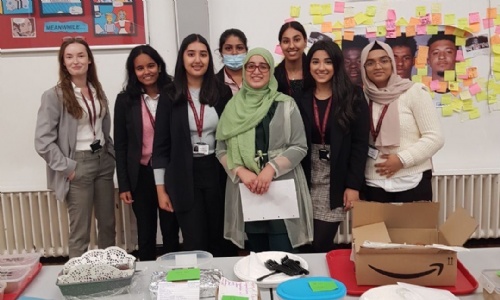 To demonstrate our support for Macmillan Cancer Support.....
Stretford Grammar School hosted our annual Coffee Morning.
It has turned out to be a fantastic opportunity for the school community to come together to show our support for those suffering with the effects of cancer and our gratitude to key workers – nurses, support staff and doctors – who have worked tirelessly throughout the pandemic to aid those who have needed it most. A huge thank you to the many students (and parent/carers in the background) and teachers who brought in their own bakes to promote the cause, with even more donating money to the charity.
The charity is particularly dear to many who have benefited from the unbelievable support it provides and ss a result, we are proud to announce that we have raised an incredible £541.44!
We would also like to congratulate the winners of our Stretford Grammar Bake Off!
In the Large Cake category:
1st Place: Sofia Choudhry 7S
2nd Place: Zahra Khan 7T
3rd Place: Oskar Smith 10E
In the Cupcake category:
1st Place: Naishe Makaka 8S
2nd Place: Aziza Ahmed 100
3rd Place: Ahmed Nurelhoda 7O
In the Tray bake category:
1st Place: Maha Shaikh 12T
2nd Place: Georgina Tuck 7S
3rd Place: Lola Heys 9T