Economics and Business Studies Talk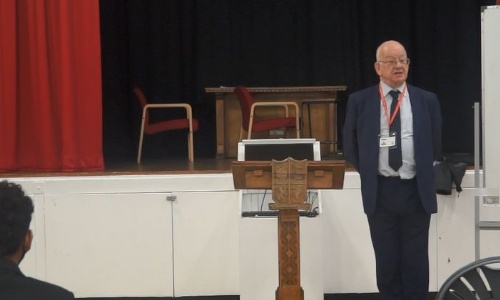 Head of Education at the Institute of Economic Affairs delivers a talk to our Sixth Form
Dr Stephen Davies is Head of Education at the Institute of Economic Affairs came into school this week to give a talk to our Business and Economics students. He gave students an update on the UK economy and he is optimistic we will see economic growth in the future, although he thinks inflation will be around for the next 18 months - along with some interesting headlines!
Previously he was program officer at the Institute for Humane Studies (IHS) at George Mason University in Virginia. He joined IHS from the UK where he was Senior Lecturer in the Department of History and Economic History at Manchester Metropolitan University. He has also been a Visiting Scholar at the Social Philosophy and Policy Center at Bowling Green State University, Ohio. A historian, he graduated from St Andrews University in Scotland in 1976 and gained his PhD from the same institution in 1984. Our students enjoyed the opportunity to quiz such an eminent academic scholar and they gained an insight how academia plays such a vital role in our understanding of the political world.
He has published a number of books such as The Economic Politics of Brexit. Watch out for his next book it has an interesting title!