Stretford Grammar School in Antarctica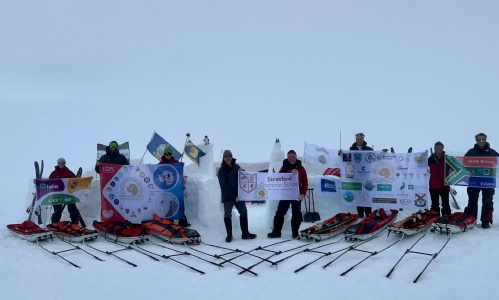 If you googled the distance from Manchester to Antarctica its 10,247 miles.......
There is no easy way to get there. It has no sunlight for almost half a year. Very few people from Manchester get the opportunity to go there. However, Stretford Grammar is pretty close to being there at the moment. Former student, Paul Hart, leading the Antarctic Quest 21 expedition, has held aloft Stretford Grammar's school flag on the coldest continent on earth this week. As part of the expeditions aim to honour the famous explorer, Ernest Shackleton, and his daring expedition 100 years ago, the team posed for photos with various school flags, with Stretford Grammar's flag being centre stage!
The school flag has been carried on top of the team's sledges and will be presented to the school later in the year, when Paul Hart comes into school to lead a talk to students about his experiences.