Year 8&9 Girl's Football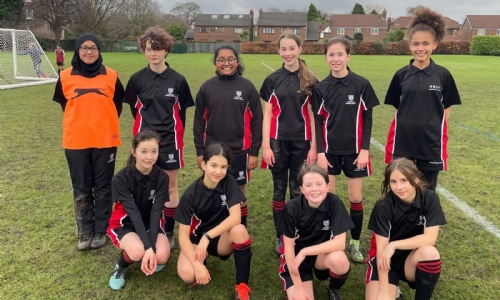 Second outing for our Year 8&9 Girls
It was a second fixture for our keen and hardworking girl's combined Year 8 and 9 team as we ventured south to take on the might of Ashton on Mersey school. The weather was perfect as the wind had eased and the sun peaked through in patches to provide great conditions for flowing football.
It proved to be a very close game with possession of the ball constantly switching between the two determined sides. There was some wonderful interplay between the midfield and attack, and our girls looked very dangerous for the opposition as they equally worked hard in defence. AOM took the lead and we had to play some catch up football. Suzannah Ford gave Stretford a chance by scoring a goal in the second half, but Ashton managed to hold on and the scoreline when the whistle blew was 2-1 to AOM.
Player of the match went to Freya Benson for her unfaltering tenacity and team work. Suzannah Ford was awarded opposition player of the match for her steely performance.
Girl's football is becoming a real strength at Stretford and we would like to see more girls getting involved - so come on down to training!