CyberFirst Success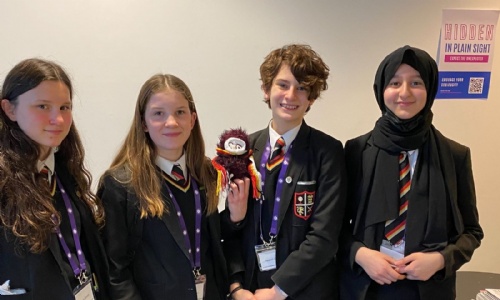 This year, once again, a group of our girls made it to the final of the CyberFirst Girls competition,
,organised by the National Cybersecurity Centre. The competition is a nationwide contest to uncover more of the nation's cyber talent and aims to inspire more girls to consider pursuing careers in cyber security, with students tackling challenges covering topics from networking and AI to cryptography and logic.
After an online qualifying round featuring many thousands of students from across the UK, one team from Stretford Gramma School secured a place in the North West of England final. Travelling to MediaCityUK, our competed alongside nine other schools solving logic and cryptographic challenges in an all-day event. Each challenge met aw an increase in a team's score, with hundreds of points up for grabs overall. After a full morning of the SGS team sitting at the top of the leader board, we broke for lunch, leaving the team mascot, 'Hex' the owl, on guard. Upon their return, the girls kept working their way through the challenges, and managed a very-close second place, being pipped to the post by Tauheedul Islamic Girls High School by only 5 points!
All the teams who entered the online round showed great skill and learned a lot that they never even knew existed, but Niamh, Zaineb, Olivia, and Emily did an amazing job in the final round and are now officialy amongst the top cybersecurity experts of their age group in the UK!