Library
Welcome to the Library.
Opening hours for all students are:
Break, Lunch and after school until 4.15pm
The Library provides an excellent service in supporting all students in their personal and academic development. By encouraging reading for pleasure and purpose all students can acquire knowledge, understanding and skills that will enhance their learning and equip them to make choices for their future. It is a proven fact that reading is a key indicator of future success, empowering students both academically and personally. Every student has a library challenge card that encourages, motivates and rewards reading towards this end. The library works very closely with the English Department in order to maximise learning opportunities and shares the same belief in the words chosen by the department of the writer Maya Angelou.
"When I look back, I am so impressed again with the life-giving power of literature. If I were a young person today, trying to gain a sense of myself in the world, I would do that again by reading, just as I did when I was young." Maya Angelou
The Library is a safe space and place for our students to discover their place in the world. Books and other resources, fiction and non-fiction, are representative of our student body, inclusive and diverse and supplement the curriculum and support personal growth. All students are encouraged to use the library and to make suggestions and share their experiences.
We have recently launched a new Library Management system which will allow students access to the library catalogue in and out of school. They will be able to manage their account, create reading lists, post reviews and research topics. Staff will also be able to set up reading lists for students
Competitions provide opportunities for challenging our students developing literacy skills and events and activities offer a fun focus on reading, writing and also illustrating. A new initiative this year is to develop the role of 'Readers in Residence'.
Our students are encouraged to play an active role in the library and in promoting reading in general. Each Tutor group has 2 designated Library Leaders who act as a conduit between their tutor group and the library, supporting and communicating all on going activities and the general running of the library. They have a personal leadership log book to record and reflect on the skills that they are developing which provides evidence for their leadership award. Library Leaders also help promote the 'Read Aloud' session that every form does one registration period per week.
Our message to all students is, map in hand, courtesy of one of our students, start your journey today.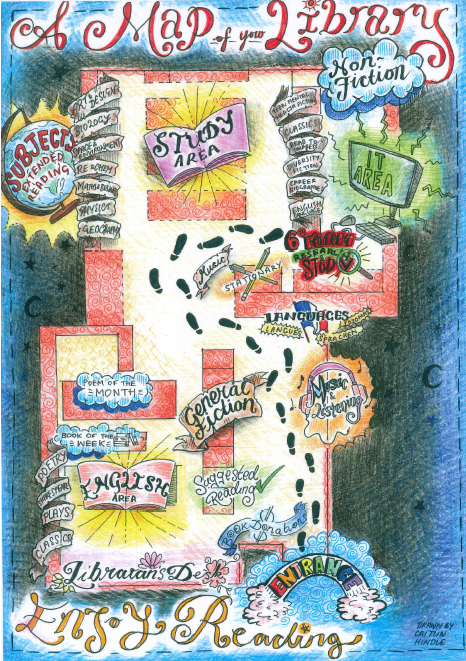 .